I spent the first half of this week running around with Penny, touring places and snapping photos. Penny says she wished we would have worked on more primitive skills together, that it would have felt nice to have more time together for those things. I thought, "Well, how long do we have together? How often will we see each other? This seems like a photo opportunity!" So we took lots of photos.
We also went fishing and Penny caught a little guy. We cooked it at her parents house. It tasted like a fish. We also drank a shit ton of sweet fern tea (which actually has no relation to ferns).
We went to Pittsburgh and met up with Jason and Guili from Anthropik for lunch and a movie (I'll post my review in a few days). Oh, and thanks again for buying me and Penny lunch, Jason!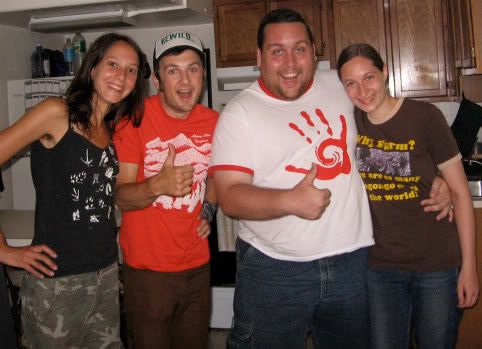 My plane ride sucked! I don't know if I'll ever travel again. My plane could not take off due to weather conditions in Chicago. So I ended up sleeping on the floor of the Pittsburgh airport.
Emily and I definately had romance. Unfortunately, in another great ironic twist, what defines each of us which brought us together, will also keep us apart: we have so many similar characteristics, not excluding our bioregional extremism. Neither one of us will ever willingly leave our place. Not even for love! That's how much each of us loves the land we live on. Though she plans to visit me out here in October. So expect more photos of us!
For now, enjoy this montage: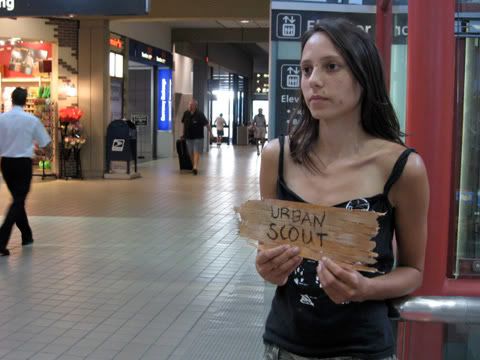 Emily Picks Me Up, Birch bark/Charcoal Airport Sign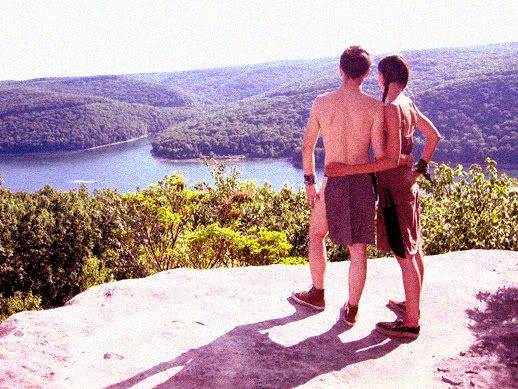 Post Apocalyptic Fantasy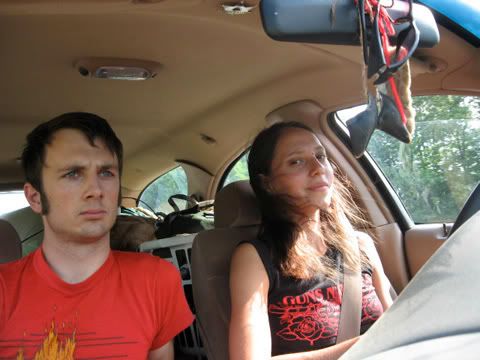 She Drives Me Crazy!

Yet Another Post Apocalyptic Fantasy
Okay! And now we have time for…
URBAN SCOUT'S WEEKLY LAUNDRY LIST!!!
Since I set no real goals for this week, I won't go through the list. Instead, I'll set some goals for next week:
Goals for Week14:
1. Burn Bowl
2. Garden at Moms
3. Practice Archery
4. Begin Pine Needle Quiver
5. Set a dead fall trap for a squirrel
—
Show your support and appreciation for Urban Scout