Book Review: "Forgotten Fires"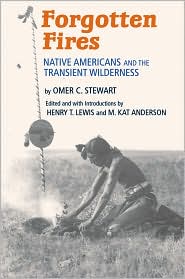 I continuously search for books on how hunter-gatherers altered the environment. M. Kat Anderson's "Tending the Wild" recently led me to discover "Forgotten Fires: Native Americans and the Transient Wilderness". The book, written by Omer Stewart in the 1950's only recently was published. Explained in the introductions by M. Kat Anderson and Henry T. Lewis, Stewart's book was basically ignored and almost intentionally buried due to his participation in Native American Land claims cases in which he defended the Natives claims against the U.S. government and won. Basically, his works revealing the largest gaps in anthropology (that duh, hunter-gatherers have intelligent interactions with the land on a large scale) were shunned and ignored out of cultural prejudice and entitlement mentality from agrarian fundamentalists. Thankfully, 50 years later, his book is finally published.
Admittedly, I haven't really read through the whole thing as it more or less seems like a collection of evidence for indian burning practices, and not a practical guide for using fire as a restoration and regenerative technique. I still think that M. Kat Anderson's "Tending the Wild" is the best book for that, but this book is a great addition to the collection as you can easily use it as a reference.
Here are some great snippets from the intros:
"If ecologists and environmentalists were to endorse the premise that Indians shaped the ecology of certain plant communities with fire, they would have to rethink the tenets upon which their wilderness philosophies are based and would have to face up to the removal of Native Americans from wilderness areas as in at least some instances a grave ecological faux pas that would ultimately undermine the unique habitat types and the biological diversity that they sought to preserve. They would also have to reevaluate the assumption that land use and conservation are always incompatible or that human tinkering with nature is inevitably destructive." – M. Kat Anderson
"In terms of some of the most basic ideas about cultural evolution, hunter-gatherer uses of fire almost have to be ignored, since to acknowledge their importance in influencing the distribution and increasing the abundance of natural resources amounts to a kind of theoretical heresy. The assumption that hunter-gatherers are ecologically inept, or at least environmentally benign, has been central to the perception that the origins of agriculture constituted a "revolutionary change" in how humans related to the environment. Leslie White (1943:371), most prominent among others in this respect, emphasized that it was only with the onset of farming that humans established "control over the forces of nature," assuming that prior to the beginnings of agriculture people could not have influenced the local availability, distribution, and abundance of either plants or animals." – Henry T. Lewis