My name is Peter Michael Bauer and I am an anthropologist, experimental archaeologist, historian, and life-long community organizer. My work focuses on the social and environmental impacts of the neolithic revolution, and how understanding these impacts can provide us with solutions to the sixth mass extinction. Since the early 2000's, I have been an integral catalyst in the human rewilding movement. Rewilding is a principle, or a lens, that helps us see and move through the world in terms of regeneration and reciprocity. It is not the "one right way"—it is a million ways to live in the flow of natural cycles. It recognizes that humans are not above those flows, and that it is actually more beneficial to our ecosystems when we acknowledge and become part of them. This movement works to create resilience through the return to place-based, regenerative subsistence strategies, inspired by those that exist outside of–and those that existed prior to–the formation of agrarian states. I created the first international online rewilding forum (now archived at discuss.rewild.com), wrote a book on rewilding called Rewild or Die, founded the organization Rewild Portland (where I teach classes), and created the Annual North American Rewilding Conference.

You could say that rewilding is my life.
---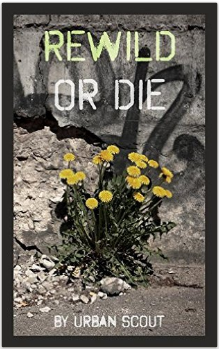 Buy My Book
So what do I mean by rewilding? In 2008 I published a book called Rewild or Die. It is a collection of essays written by my muse and alter-ego, "Urban Scout". In this book, as Urban Scout, I explored the philosophy of the emerging rewilding renaissance, in which civilized humans are thought to be "domesticated" through thousands of years of sedentary, agrarian life. This way of life is believed to be the root of all environmental destruction and social injustice. Rewilding is the process of un-doing this domestication, and restoring healthy, biologically diverse communities. Using thoughtful, humorously cynical and at times angry prose, Urban Scout explored how the ideology of civilization clashes with the wild and wild peoples, and how thinking, feeling and most importantly living wild is the only way to reach true sustainability. Originally published in 2008, due to requests from readers, I re-released Rewild or Die.
---
Watch this interview with Peter about his work with Rewild Portland
---
Read the Latest Posts from Peter