Meeting My Meat
Warning: This blog contains pictures that some people may not stomach well.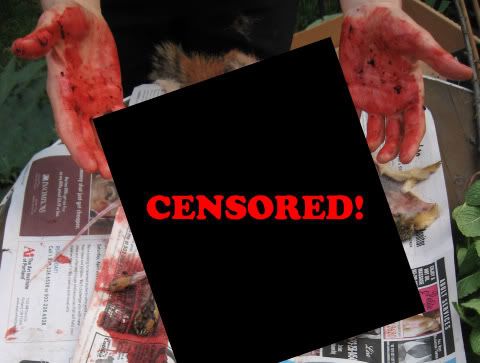 I found this poor lady in the gutter on my way home from foraging yesterday. I dug her out from under a parked car and wrapped her in my jean jacket, much to the disgust of my girlfriend Sasha who said, "You can't skin that at my house." Luckily Erins yard, which just around the corner from Sasha's house and houses my tipi, served as the perfect location.
I knew it could get bloody, so I grabbed some newspaper and laid it down on the table in Erins backyard. As it turns out, the newspaper page I picked came from the smut section, adding to the perversity of the following photographs.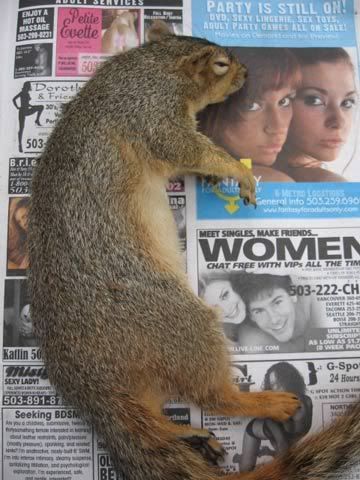 When I picked her up, I could feel that rigor mortis had already set in, yet I could still feel some internal warmth from when her soft little heart still beat. Upon closer examination I found she had some large, gnarly fleas. A common find on roadkill squirrels, and also a good sign; if fleas have not yet abandoned the ship, you know that it didn't die too long before.
Of course, fleas carry the Bubonic Plague so… Maybe we shouldn't consider them a "good" sign, but a sign of freshness none-the-less. I didn't find myself to worried about catching the plague, or rabies or any of that. Make sure you learn about these diseases if you plan to pick up roadkill.
After skinning a few squirrels, you get a feel for it. Cut 'em open and peel off the hide. I don't see much more advice than that. You learn to skin by feeling the skin peel away from the muscle and fat.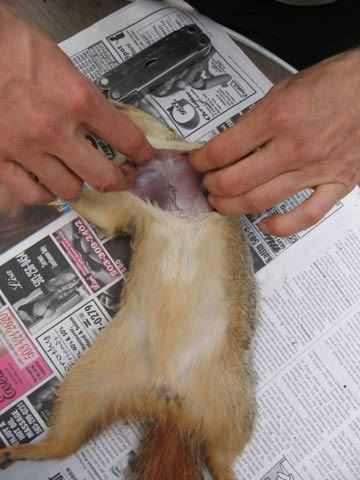 Next, you'll want to take the guts out. Make sure you do this carefully! If they rupture… well… Don't rupture them.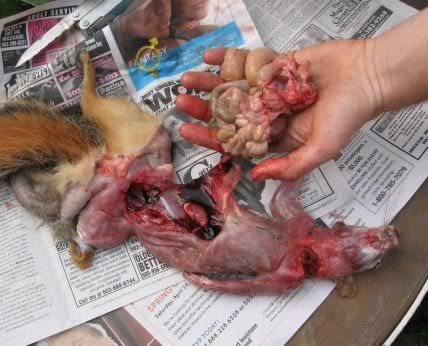 Peel the rest of the hide off.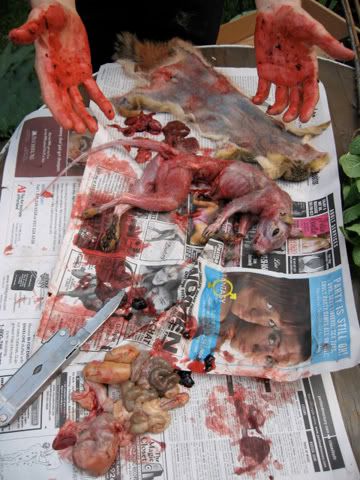 Cut the head off. Cut the legs off. Cut the chest open. Rinse with water & season.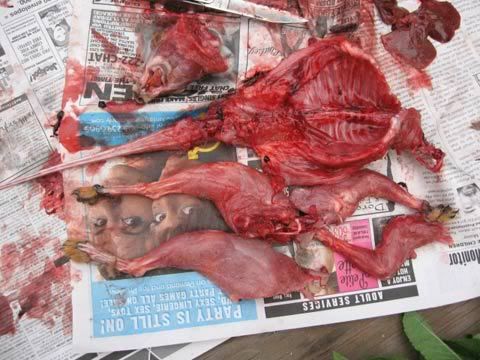 Stretch the hide on a rack.
Barbecue it up.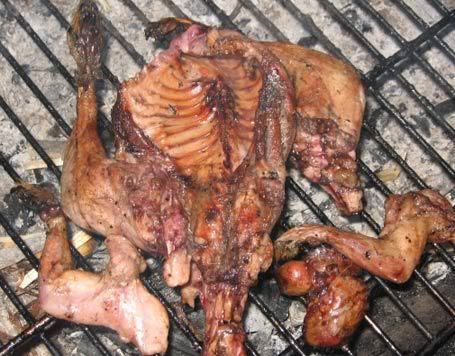 Bon appitite.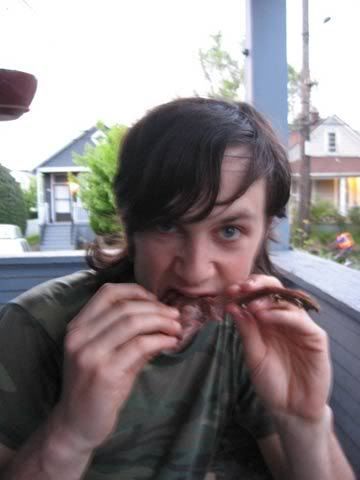 On Honoring the Animal
(Reposted from Week4: Foraging a New Path)
I didn't feel much skinning the squirrel, but later when I told the story of how I think it died, the crunched shoulder, the twisted pelvis and the blood-clot filled chest… I just can't imagine the pain the squirrel must have felt when it died. It reminds me of the squirrel that I hit with the rock, that survived, probably in much pain, but still it survived. Squirrels show great resilience, and I honor and respect them. Someone who can primitively kill a squirrel must have skills, but I see no honor in the death of road kill. Cars stumble and fumble down the road like giant drunk bullets, killing anything in their path. To die at the hands of such a retched machine, to roll a painful roll into the gutter only to rot… How terrible for these animals. I only hope I can honor their spirits by using their bodies to provide me & those I love with sustenance. I find it interesting that I didn't really make the emotional connection until I told the story of what happened, and in telling the story and describing where the squirrel got hit, I could feel it in my own body.
*I wrote this blog in E-prime.*
—
Show your support and appreciation for Urban Scout