Sapiens or "How I Decide to Read a Book"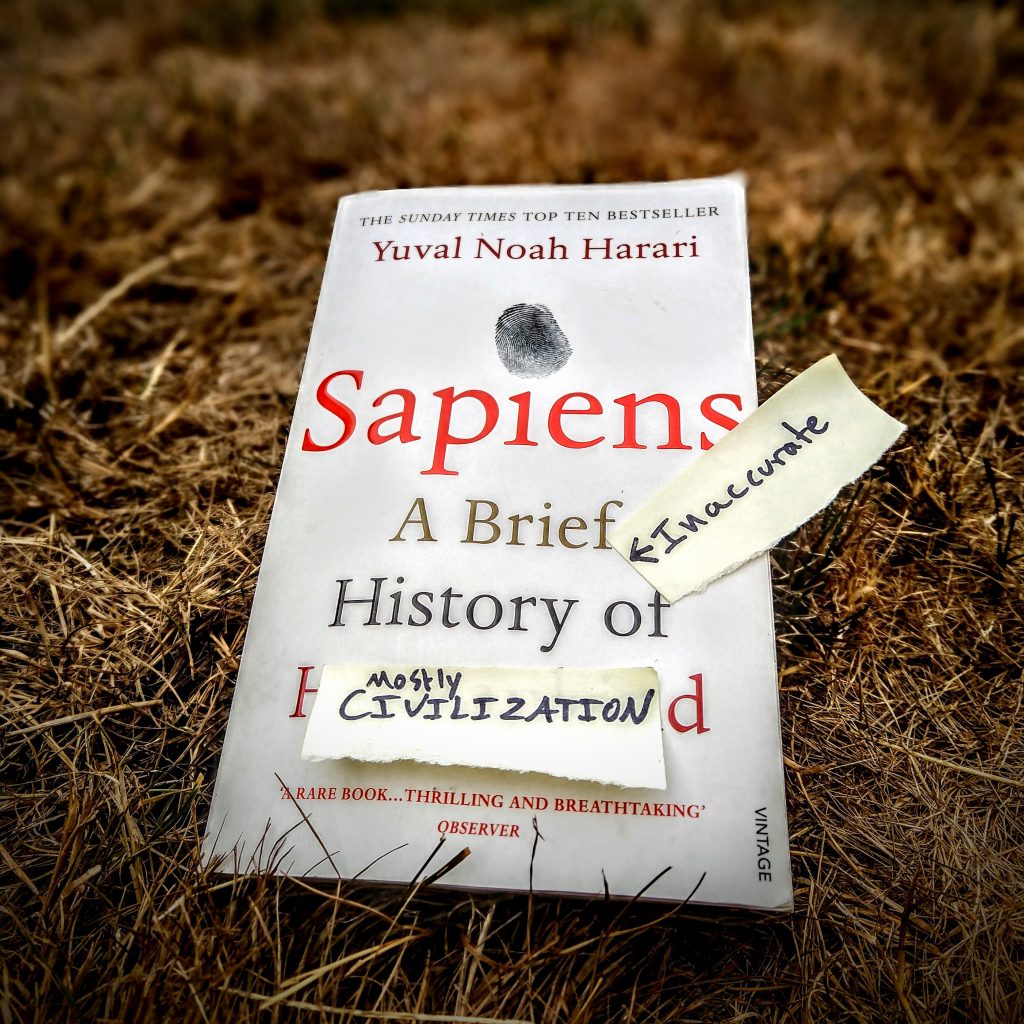 For a while now people have been recommending the book "Sapiens." So I looked it up. As I glanced over it I realized I that I have a methodology and order for how I grade a book before I decide to read it. Here is the process I go through in order to decide whether or not to read a book. In this case, Sapiens.
First, I look at the title.
The title is "Sapiens: a brief history of humankind." Already I see a narrative being presented in the title: sapiens means humankind. The Homo genus is actually what "humankind" means. So this title is misleading and inaccurate, in that it's seemingly setting up a framework to only discuss the last 200,000-300,000 years of our species, and not any of our human ancestors. Also, within paleoanthropology and evolutionary theory, the distinctions between the different Homo species are blurring and becoming somewhat meaningless, but I will get to that later. The title already has me immediately turned off, but not enough to not read the book. (To the authors credit, he does mention later that term "human" refers all the way back to Homo habilis, some 3 million years–but my point still stands).
Then I examine the cover.
The cover is bland enough to not steer me away, nor pull me in. I try not to judge a book by its cover, but "less is more" for me, and they do a good job of that. The one thing I notice is across the top it says, "The Sunday Times Top Ten Bestseller" and I'm immediately under the impression that this book doesn't challenge any of the standard narratives of civilization. Anything that is a bestseller is usually something that reinforces our beliefs, not questions or dispels them. Again, this is a red flag for me, but not enough to not read the book.
Then I read the jacket.
The Jacket is the real point that can be the deciding factor on whether or not I think a book will be worth my time. Often the jacket is not written by the author, and isn't wholly reflective of the content within the book. It can also be intentionally used to trick people to read the book, a sort of "bait and switch." The jacket of Sapiens felt pretty horrible to me. Here is my breakdown, line by line.
100,000 years ago, at least six human species inhabited the earth. Today there is just one. Us. Homo sapiens.
This is super misleading and inaccurate on multiple levels. The idea of what a species is, is rapidly changing both within paleoanthropology and within evolutionary theory itself. We're starting to realize that the many different "species" of the Homo genus are most likely just one species: Homo erectus (including us). This is because variation within a species is huge, and that was never taken into account. Previously, when paleoanthropologists discovered each new Homo skull with different morphology, they would classify it as a whole new species. Due to recent discoveries (5 skulls with different morphology found in the same context) they had to rethink this. After doing a cross analysis of modern humans, they found the variation in morphology to match the same as all the different morphologies within the paleoanthropological record. This means that there wasn't really all these different species, but just different variations of humans in the same way that we see today. Diet, environment, genetics all play roles in the development of our bones. It's also weird that they say 100,000 years ago, almost implying that Homo sapiens came about at that time. Even if you follow the old narrative of multiple Homo species existing at the same time, Homo sapiens date back to around 300,000 years ago. A more contemporary sentence would read like this, "Ten years ago we thought there used to be dozens of human species, today we've realized that there has always been just one." The next sentence plays off the inaccuracies of the first and adds to a false narrative.
How did our species succeed in the battle for dominance?
There are three cultural narratives slipping past folks in this statement. One: that there were different human species (we now presume there weren't). Two: that they were in competition against one another–and that Homo sapiens "won" a "battle" by virtue of all other Homo species being "extinct" in the present era. Three: that this perceived "domination" means "success." Once we see that the species delineation is more complicated, the implications behind questions like this are much more easily dismissed. If our species variation's are more fluid, then they are about adaptation and collaboration, not "competition." Not to say that competition between species doesn't exist, but that cooperation is an equally viable strategy (often times more viable) in terms of these cultures of humans blending back together. The best example of this is the classic Neanderthal vs. Homo sapiens narrative; the theory that Homo sapiens "wiped out" the Neanderthals. Through DNA testing and mapping of the genome, we know that modern humans who have a genetic history of migration out of Africa actually share genes with Neanderthals. This means that Neanderthals didn't "go extinct," and they weren't "wiped out." It means they hybridized with Homo sapiens. One did not destroy the other, they came *back* together. A contemporary example of this kind of thing is happening right now with the eastern coyote. When their DNA was tested, it was found that they were very high in wolf DNA, and also some domestic dog DNA. Wolves and Coyotes branched away from another some 200,000 years ago, and yet they are still able to have viable offspring. They fill completely different ecological niches, look very different, behave very differently, and yet they can have babies. For 200,000 years they diverged to specialize in different ecological niches–lessening their competition. But due to the environmental impacts from civilization, coyotes have adapted to these changes through hybridization with wolves and domestic dogs. This brings up two important points: that the species differentiation could have happened as a way of lessening competition (two different species filling two different niches are not in as much competition) and the hybridization shows a lack of competition, but cooperation to adapt in the face of environmental change. The concept of interspecies competition and "dominance" in evolution is just one small part of a whole range of interactions and set of strategies. The DNA of those whose ancestors migrated out of Europe are not exactly "Homo sapiens," they are hybrids. We are all hybrids. That is one of the reasons the species distinction is making less and less sense. This sentence from the back cover alone is enough to completely turn me away from this book. If it weren't for people telling me to read it, I wouldn't. Again, I'm banking on this jacket being of the "bait and switch" variety. The next line is…
Why did our foraging ancestors come together to create cities and kingdoms?
Another very problematic sentence immediately following the other. This makes it sounds like foragers had intention to create civilization. Humanity didn't come together to create these things. The transition from foraging to agriculture was very slow and in small pockets. There was never any intention to create what we have today; the creation of kingdoms is a symptom of many things, but too long to discuss in a simple book review (Read my book Rewild or Die). In brief: immediate-return gatherer-hunters, for the most part, have rejected agriculture and pastoralism. They diffuse inequality and do not accumulate wealth. There is no myth of humanity's "progress" nor a desire to do so. At this point it just sounds like I already know more than the author and that this book is either garbage with the same mythology of civilization, or a pop cultural book for people who don't read up on contemporary paleoanthropology.
The rest of the back seems boring and generic and I don't have anything to say or deconstruct. The inside though, have these words assembled together:
FIRE: Gave us power

GOSSIP: Helped us cooperate

AGRICULTURE: Made us hungry for more

MYTHOLOGY: Created law and order

MONEY: Gave us something we can really trust

CONTRADICTIONS: Created culture

SCIENCE: Made us deadly

This is the thrilling account of our extraordinary history – from insignificant apes to rulers of the world.
Right off hand I see the standard narrative of civilization all over this, and it makes me sick to my stomach. It's also a word salad that could have been generated by an algorithm. You could almost take any of the sub sentences and mismatch them with any of the headlining words and they would sound interesting and thought provoking. Example:
FIRE: created culture… AGRICULTURE: made us deadly
That is absurd in and of itself, and I'm assuming these are actual connections that the author is going to try and draw in the text, but you could draw these connections to all kinds of things. The premise here that I take main issue with is the use of the word "us." Blank made us blank. Agriculture, money, science… These things are not universal aspects of Homo sapiens or humanity. Here they have done what civilization has always done; conflated itself and its values with humanity. This tells me that it isn't a book about Homo sapiens, it's a book about Civilization and those who made it. This is the standard narrative and is one premise that most people don't realize, or don't find important. We want to believe that humanity did all of this. But the Bushmen didn't. The Hadzame didn't. The Apache didn't. An accurate portrayal may be to say "some of us," but clearly that isn't definitive enough or grand enough to sell books to people who want to continue to believe that their way of life is the way of life for our species. Imagine a book called "Sapiens" from the perspective of the Bushmen living today. How would that narrative read? Maybe the jacket would read something like this:
GATHERING: kept the world living.
SHARING: made us connected.
LIMITED WANTS: kept us from accumulating wealth.
EFFICIENCY: gave us leisurely lives.
And so on. That's the story I'm more interested in knowing, and the one that is more important now than ever. At this point, I know for sure I can't read the whole book, but I'm going to continue with my process anyway.
Okay, now it's onto the…
Quotes
When all the quotes come from the names of newspapers and not scientific peers, that's another red flag to me that says, "Pop Cultural Bullshit." This one had all newspapers, but one actual person's name attached to the last quote… Jared Diamond. A known liar and unethical pop cultural writer who masquerades as an historian. The only quote with an actual name attached to it is someone discredited by the anthropology community. How many red flags is this so far? I've lost count.
Table of Contents
Once I get past the jacket, I open to the Table of Contents. Right away there is more narrative.
Part One The Cognitive Revolution

1 An Animal of No Significance
Okay. Here we go. This is a value statement. What is "significance?" Why not, "an amazing animal that lived for 3 million years within the flux of ecosystems, adapting and changing with it?" Unlike civilization, which is self-destructing within a mere 10,000 years. Is it not more "significant" to be a part of something for so long? Think about this. Think about how under this framework, cultures like the bushmen, or the hadzame (Since they have not changed dramatically in tens of thousands of years) are essentially being labeled as "animals of no significance." Can you see the cultural narrative now? I can and it makes me actually feel physically gross.
Part Two The Agricultural Revolution

5 History's Biggest Fraud

6 Building Pyramids

7 Memory Overload

8 There is No Justice in History
The rest of the table of contents seems innocuous and maybe a little interesting. There is one overall qualm though. It's the amount of time spent on prehistory. For a book called Sapiens, you might think would cover the 300,000 years that Homo sapiens are thought to have been on the earth. But looking at the table of contents of these kinds of books about prehistory, the first 3 million years of the human story, or in this case of this book, the first 300,000 years is only given a small percentage of the book. An example is that this book has 4 sections. This means that, percentage wise, the first 290,000 years are all crammed into one section. The rest of the book is only about the last 10,000 years–the (mostly) written history of civilization. What this says to me is, to use the jacket's own words, the first 300,000 years are "insignificant." That's probably one of my biggest pet peeves, and will no doubt be reflected in the rest of the book in more ways than one.
Through this deduction method, I don't want to imply that I don't read things that are "counter" to my way of seeing the world. That I can only live in some kind of echo chamber where I never question my own beliefs. This is not what I am saying. I do read things outside of my perspective; the majority of pop culture has not caught up with the majority of anthropology and paleoanthropology–from the 1970's. Pop culture is 50 years behind science. I try to read as though I am an alien anthropologist studying humans. I try to decipher between what is being observed (and not observed), what is the story we are telling about ourselves–and why. What are the intentions of the story? Who does the story serve? This is what I find the most fascinating. But also, I'm an emotional creature and these myths have an emotional impact on me, so I have to watch out for that too.
People want to believe in the duality. That humans are either good or evil, and they seek out a story to justify their actions. If humans are inherently evil, then we shouldn't feel all that guilty about destroying the planet. If humans are inherently good, then we believe this destruction is from having just taken a huge step in the "wrong" direction. For my part, I believe humans are not inherently anything, or they are inherently everything. Our environment dictates our culture, our culture dictates our actions. For 3 million years our environment dictated a culture, and that culture kept us in a regenerative relationship with the ecosystems we are a part of. Something changed in *some* of our environments, which triggered change in *some* of our societies, and in *some* of the actions within those societies that eventually created the global culture of State occupation and environmental degradation that we see today.
I research and learn about prehistory because I want to understand what these changes were so that I can figure out solutions to our problems. This means walking away from judgments of "good" and "evil" and rather, what creates resilience and longevity and what does not. When I see the same old narratives continue to explain away humans as "violent" creatures that have "dominated" the planet, I see the same old narratives that got us where we are today. This makes me lose interest more than anything. Through all of this, Sapiens is not a book I would ever ended up reading. But, I gave it a shot and started to read…
The first chapter
My eyes start rolling immediately and I am highlighting narratives and inaccuracies on every page. I am barely able to make it to page four where this cultural-superiority-complex bomb drops:
"On a hike in East Africa 2 million years ago, you might well have encountered a familiar cast of characters: anxious mothers cuddling their babies and clutches of carefree children playing in the mud; temperamental youths chafing against the dictates of society and weary elders who just wanted to be left in peace; chest-thumping machos trying to impress the local beauty and wise old matriarchs who had already seen it all. These archaic humans loved, played, formed close friendships and competed for status and power–but so did chimpanzees, baboons and elephants. There was nothing special about humans. Nobody, least of all humans themselves, had any inkling that their descendants would one day walk on the moon, split the atom, fathom the genetic code, and write history books. The most important thing to know about prehistoric humans is that they were insignificant animals with no more impact in their environments than gorillas, fireflies, or jellyfish."
This is where I decide that I am not going to waste my time and read this book, no matter how many people recommended it. I continued to read through the first chapter, with equal disdain. Highlighting along the way. It's a funny coincidence, that his last statement of value in the quoted paragraph above ends with the insignificance of jellyfish. In the novel Ishmael, author Daniel Quinn wrote a parable of the way people in civilization talk about the origins of civilization, as though it is the pinnacle of evolution (evolution has no pinnacle–it's just life adapting to change, not "progressing" or "devolving"). That the world of humanity was "insignificant" and "nothing special" until a few humans created civilization. However, in this parable, the animal being interviewed by an anthropologist is not a human, and yet they are describing the creation of the world in the same way. At the very end, the animal is revealed to be a jellyfish.
While looking back over this book before posting this review, I saw the very first page I missed something. Before the Table of Contents, before even the title page and copyright page. There is a page that has a quote from the author. The quote is:
"I encourage all of us, whatever our beliefs, to question the basic narratives of our world, to connect past developments with present concerns, and not be afraid of controversial issues."
This book fails to do this in any meaningful way. I do not recommend it. Instead, I would suggest reading Limited Wants, Unlimited Means edited by John Gowdy.