Nixtamal And The 24 Hour Taco!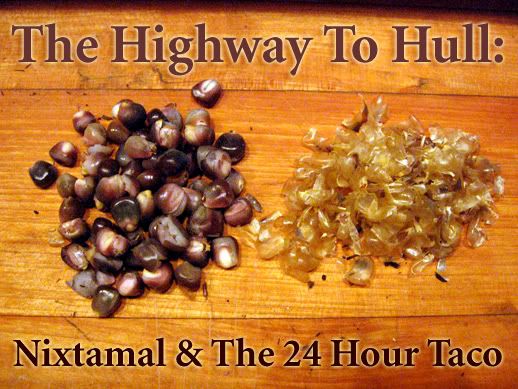 Despite the following blog detailing my experiments, I still have no idea how to nixtamalize corn. Even after finding a video on YouTube, I still have a zillion unanswered questions. Though I have mostly given up eating corn, I still would like to know how the process works.
Everyones that I have an addiction to corn chips. I love the way they crunch and crackle like nothing else, and I love them even more with salsa and guacamole. My journey into the process referred to as nixtamalization came after I ate several bags of blue corn chips in one sitting while I tried to eat the Body Ecology Diet, which allowed blue corn chips in small doses. I told myself that should I eat chips again, I should have to process them from corn to chips myself.
What do you need to make chips? Tortillas. I went to the store and bought a bag of blue corn meal, and without looking at a recipe, tried to make tortillas. I thought, corn meal, water, some oil and a pan right? Wrong.
Of course, I failed miserably. So I did a little more research and found that corn meal does not make good tortillas. Corn flour, a finer grind of corn meal, makes better tortillas. But I also read about several different kinds of corn flour, specifically one they call "masa harina." I found that this corn flour has something extra to it. Masa harina basically means; nixtamalized corn flour.
Nixtamal (also called hominy in the states) refers to an Aztec word that translates to "corn softened in wood ashes." It combines two Aztec words; "nextli" which means "ashes" and "tamalli" which means "unformed corn dough." To make nixtamal, one cooks/soaks corn in an alkaline solution such as lime water or lye. This causes the outer hull to separate from the grain, making it much easier to grind and simultaneously making nutrients in the corn more available to humans. Now you can see the reason I became interested in nixtamal; it made corn more nutritious. If I can't kick the corn at least I can make it a little more nutritious!
I found one online recipe, and one from the book Wild Fermentations. The online recipe called for store-bought hydrated lime (AKA "Cal") and the Wild Fermentations recipe called for wood ash. I thought wood ash would feel cooler, since it doesn't involve going to the store or spending money.
I bought a big bag of blue corn from Bob's Red Mill:
They say to use a hard wood so I burned some cherry cut from a near-by park.
I scooped up the ashes into a cup and sifted out the big charcoal chunks.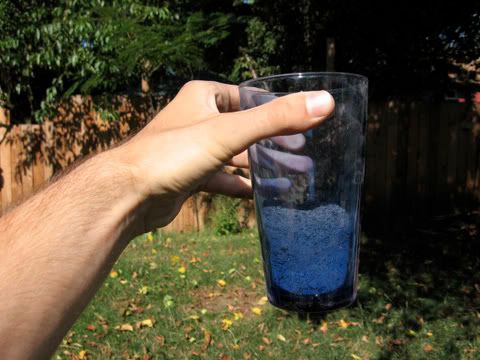 I wanted to do it all scientificamally so I bought a PH test kit. I tested the PH in hopes that I would learn what the proper PH for lye water something something I have no idea why I did it, but it felt fun.

Next I took three samples. I had read a million different pieces of the puzzle across the internet on the proper way to make nixtamal. Though I had two solid recipes, they both lacked some tidbits I had read here and there. For example, the Wild Fermentations recipe has you sprout the corn first by soaking it in water for 12-24 hours, but the online recipe I found did not call for that. I think sprouting probably helps get rid of hazardous enzymes, so I went with that.
I felt that a way must exist that uses less energy than both of the recipes that I found. Boiling for three hours seems like a long time, and finding hydrated lime probably didn't come as easy as walking into a grocery store for hunter-gatherers. I decided to try and soak the corn in ash-water for a long period of time to see if it would naturally penetrate the hull.
The three samples looked like this:
After several days of watching them closely and checking the PH regularly…
…they got moldy.
Now, the internet recipe says to boil in slaked lime water for 30 minutes and let soak overnight. The Wild Fermentation recipe says to boil in ash water for 3 hours. It seems ludicrous to boil something using primitive technology like hot stones or pottery. Heating stones hot enough to boil water takes a lot of energy, and to have them continuously for 3 hours seems an awful long time to me. So I though I'd split the difference and use the ash-water in place of slaked lime and only boil for 30 minutes and let it sit over night. I also sprouted this batch.
It failed. The ash water did not have the strength of the slaked lime water apparently.
Just when our chips fell down, Penny Scout found this awesome Indian Corn Soup video:
[kml_flashembed movie="http://www.youtube.com/v/uFgkhJZ-CeA" width="425" height="350" wmode="transparent" /]
Now… See how much ash that guy uses!?! A big fucking bowl full. The Wild Fermentations recipe has you only use a teeny tiny bit. Like… 1/2 a cup of ash to 8 cups of water. I think that may have something to do with the boiling for 3 hours. The native in the video only boils his for 30 minutes. Though, he makes corn soup and not tortillas. But it seems more likely that that amount of ash may equal a small amount of slaked lime.
I decided to screw my own experiments and use the rest of the ash to follow the recipe in Wild Fermentations, exactly the way it says. I boiled the corn for 3 hours and still did not have success. I just let it keep boiling and after about another 30, the hull's began to come off.
It says the hull's should rinse away under cold water, but my hulls stuck to the germ pretty well. I spent about an hour hand picking the hulls off until I decided to just grind it all together.
I used a mortar and pestle in place of the traditional Mayan metate y mano. They say the stone grinder adds more minerals to your meal, but archaeologists say that it also works like sand paper on your teeth! The Seneca had a smarter idea and used giant wooden mortar and pestles.
I felt concerned about grinding the hulls in with everything. I mean, I thought the whole point of nixtamalizing involves removing the hulls. But maybe it just means loosening them from the germ. I don't know.
It did not grind very easily. I spent 20 minutes grinding it before I realized it didn't work very well. I got a wet clump of corn: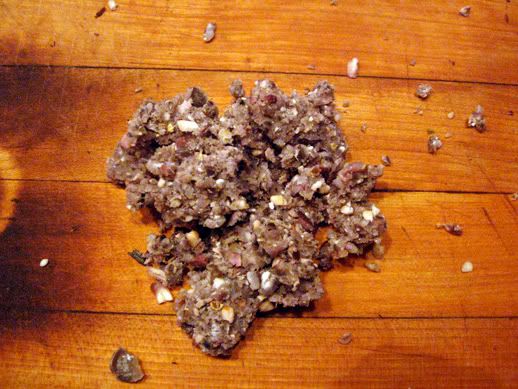 I waited for it to dry than I ground it finer to make the taco. It worked okay, but still took a lot of fucking elbow grease!
…add a little water and roll it into a ball… get out the press…
Cook it up. No oil, just hot hot heat.
One taco… to share with my girlfriend.
So where do I go from here? Well, as you know I quit corn for awhile, but I came crawling back. So now I have a few ideas. I want to try the slaked lime recipe. I found a Mexican place that sells it and also sells a different kind of blue corn than the one I tried before. So, two kinds of blue corn, with slaked lime. I also want to try it with a shit load more ash this time and see if I only need to boil it for 30 minutes. I also want to get a corn grinder so I don't have to use that awful mortar and pestle. Perhaps Penny and I will make our own giant wooden mortal and pestle this summer… who knows? Stay tuned for more nixtamal experiments.
—
Show your support and appreciation for Urban Scout